People with 10+ years of personal or family recovery are invited to participate in the Honor Guard by wearing a sash and leading the Walk.
The sash is a powerful symbol of hope and proof that long-­term recovery is possible! We invite individuals with 10+ years of individual recovery to wear a purple sash.
NEW! We know that our allies are essential to long-term recovery. We invite individuals with 10+ years of family recovery  to wear a green sash. Your support and advocacy in honor of your loved ones gives hope to others, and we thank you!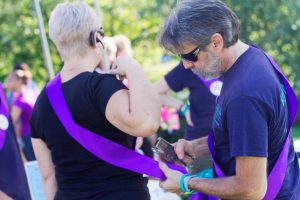 Pick up your sash on the day of the walk near the registration tents.
The Honor Guard will assemble on the Capitol steps at 12:15 p.m. for an annual group photo.
Honor Guard members are invited to kick off the walk at 1:00 and then step aside along the route to cheer the rest of the walkers on their way.  Or, participate in the walk however you choose – leading, following, or hanging out with your team – however you carry your sash, the Honor Guard serves as the embodiment of the message we need to send:
Recovery is possible, and long-term recovery is real!
More details provided at the event. 
Register for the Walk