July 13, 2016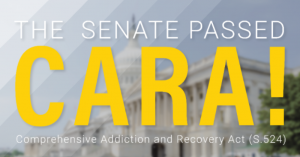 The Comprehensive Addiction and Recovery Act of 2016 (CARA) – the first comprehensive addiction and recovery legislation to pass Congress in almost 40 years – is headed to the President's desk this afternoon to be signed into law.
HUGE thanks to our own Julia Alexander for working on this legislation for more than two years! And Bravo! to the Addiction Policy Forum for all of its tenacity and perseverance!
Please take a moment to thank your Senators for voting yes on CARA.
Minnesota Recovery Connection
connect. recover. advocate. serve.