"I look forward to helping reunify as many families as I possibly can!" – Tiffany Irvin
Minnesota Recovery Connection recently started a new program partnering with Hennepin County's Children and Family Services (CFS). The program pairs Peer Recovery Specialists with mothers who are struggling with substance use disorders and are involved with CFS in some way. Peer Recovery Specialists can help them navigate their recovery and the oftentimes stressful and confusing CFS experience. The stigma of substance use disorder is an especially insidious barrier for parents struggling to keep their families together, and mothers in particular can feel like they have no one to advocate for them. CFS and MRC hope the program will help these individuals get person-centered support specific to their recovery needs, with the long-term goal of keeping families together.
MRC's Director of Peer Services, Tiffany Irvin, is leading the pilot program, which launched on a small scale last October. "Children and Family Services has been a humbling experience for me," she said. "I am able to help mothers who were in the position I was in at one point, but I had no help." She has been working directly with participants during the program's initial phase, and she's discovered that a big part of the job is building trust. "The women (and some fathers) that I work with are in a situation where they already feel judged and are unsure of who they can trust," she pointed out. "Gaining my participants' trust is invaluable to me. When they decide that it's me, it's very rewarding."
Now that the program is up and running, Tiffany will return to managing the program and has hired a Peer Recovery Specialist, Anjelica Rozales, to start working directly with participants and will soon add a second person to the team. A key goal for her team is to help participants develop recovery capital – the internal and external resources necessary to begin and maintain recovery. Peer Recovery Specialists, who share the lived experience of substance use disorder and recovery, provide a variety of support services, including:
Assisting parents with accessing services and overcoming barriers to recovery, such as housing, social service or health benefits, child care, education, and employment
Offering parents assistance navigating the child welfare system
Attending collaborative and committee meetings, including court sessions, family team decision making meetings, and other case meetings to speak on behalf of the family
Serving as a liaison between substance use treatment, child welfare, and the court
Helping child welfare and court professionals understand substance use disorders, treatment, and the recovery process
Serving as an advocate and speak on the parent's behalf
"This program is also focusing heavily on the populations that suffer from racial disparities," added Tiffany. "The need for a Peer Recovery Specialist is evident in my community and being an African American woman, I tend to be more relatable. I also live in Hennepin county so it's amazing to really be helping my neighborhood." One of the tools Tiffany is using to encourage mothers to connect with her is a flyer she created with her personal story. "When potential participants realize I've been where they are and that I just want to help, they are more open to letting me into their lives."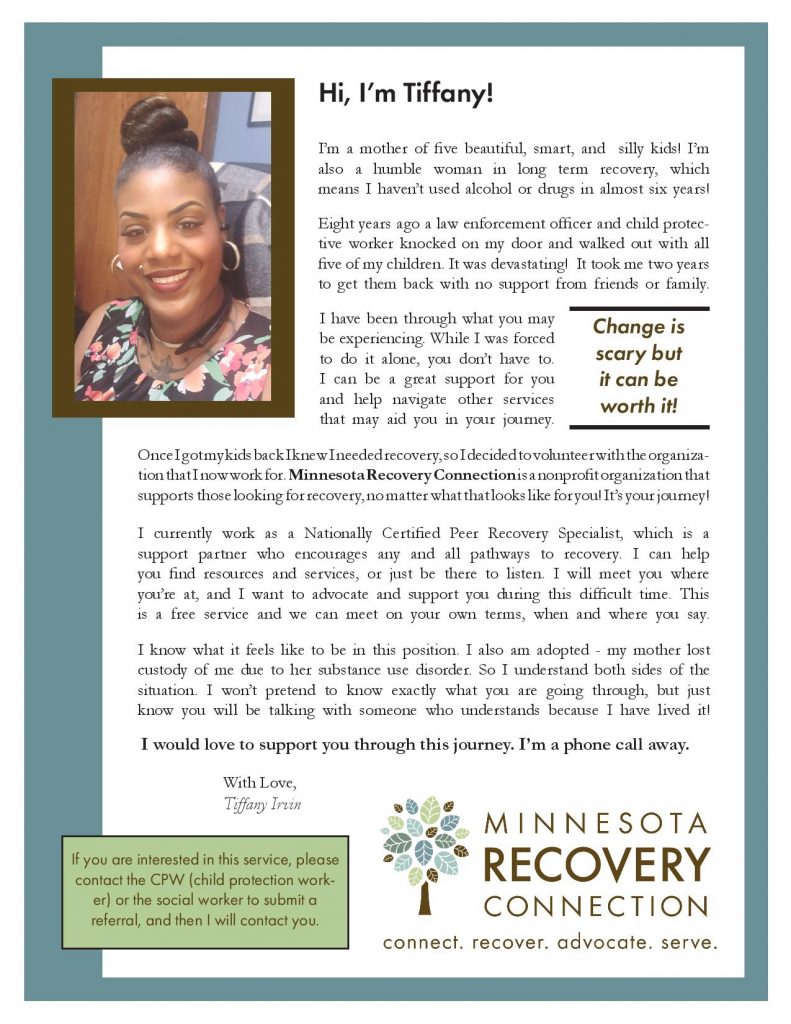 Part of this new program involved training Social Workers/Investigators who work for Hennepin County within Child Family Services about peer recovery support services. Over the past 3 months, Tiffany, MRC's Training Coordinator, Caddy Frink, and Recovery Corps Project Coordinator, Hannah Lindgren, trained 62 social workers in half day trainings that detailed MRC's Peer Recovery Services, how Peer Recovery Support Services can improve their clients' outcomes, and the process for referring clients to MRC.  Since the trainings, more and more CFS Social Workers are referring clients to MRC for peer recovery support, with 17 participants referred in just the past month.
Programs similar to this have been implemented successfully across the country, and we are excited to see this program grow in the coming months. "I love my work," said Tiffany, "and I look forward to helping reunify as many families as I possibly can!"
Tiffany Irvin, Director of Peer Services, can be reached at tiffany@minnesotarecovery.org