MRC gave me a place to belong as I healed through my son's death. It still provides that place for me today.
Minnesota Recovery Connection is a Recovery Community Organization –  a grassroots nonprofit whose staff, volunteers, and Board of Directors are all people in personal or family recovery or are community allies. We are dedicated to strengthening the recovery community and are proud to share our stories. This month, we're spotlighting volunteer Gloria Englund.
MRC: How did you get involved with MRC?
Gloria: I have been involved with MRC as a volunteer since 2010. After my son, Aaron, died of a heroin overdose in 2007, I was searching for support systems that support all pathways to recovery. This is because my son could not relate to 12-step recovery. Although I have been in 12-step family recovery for 36 years and in a food addiction 12-step program for 9 years, I have always been an advocate for all pathways to recovery and have learned about different ways to support my recovery programs by attending other than 12 step recovery meetings.
MRC: What does MRC mean to you and what do you value most about your engagement with MRC?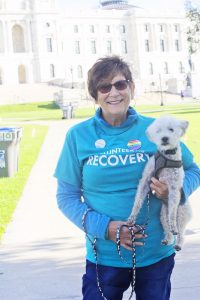 Gloria: I feel as though MRC saved my life. My hope of recovery was restored because I saw a recovery organization working hard to honor all pathways to recovery. As a recovery ally, I was welcomed to go through their Recovery Coach Academy in 2011 and the more in-depth training in 2012. MRC gave me a place to belong as I healed through my son's death. It still provides that place for me today.
MRC: Tell us about the Peer Advisory Council (PAC).
Gloria: The PAC's mission is "To be an integrated voice of the community in a role of guidance and support to further the MRC mission to strengthen the recovery community through peer-to-peer support, public education and advocacy." I wanted to be part of the PAC because I believe in their mission statement and wanted an opportunity to bring it into action. As a recovery ally and advocate of and for Family Recovery, I wanted to make sure it had a voice with MRC and the PAC. The PAC is responsible for MRC offering a Family Support Meeting based on CRAFT (Community Reinforcement and Family Training) family principle. I facilitate the meeting along with a couple of other great volunteers that I recruited.
Also after the death of George Floyd in 2020, the PAC has created safe space for recovery community members to share and listen to any unmet needs and discuss how the PAC and MRC might be able to support. This opened up more communication between MRC and recovery organizations that represent the diverse population in recovery and those seeking recovery.
 MRC: What motivates you to stay involved with MRC?
Gloria: MRC saved my life and my hope for recovery during a really dark and painful time in my life. When my son was alive, I experienced the stigma of Substance Use Disorder (SUD). When he died of an overdose, it felt like all that shame and stigma multiplied ten-fold along with the grief of losing a child. Instead of love and supportive thoughts, I got a lot of silence. MRC understands and promotes the importance of grief and all recovery pathways.
I am also motivated to stay involved because I believe that Recovery Community Organizations (RCOs) are desperately needed in our community and need all the support they can get to spread the word that recovery is possible for anyone and that there is a pathway to recovery that is right for all.
MRC: What is something significant that you are proud of?
Gloria: I am most proud of all the work I have done with MRC and the PAC to keep family recovery in the forefront of the recovery community. Everything I have learned about recovery taught me that if the family members do not recover when their loved one does, the chances of the whole family system recovering is greatly diminished. In 2015 I wrote a book, Living in the Wake of Addiction: Lessons for Courageous Caregiving. It is about my journey with family recovery before and after my son died. It has a lot of resources and information about family recovery and self-care along with different pathways to recovery. I wrote the book I wish I would have had as a support guide when I was dealing with my son's substance use disorder and my own codependency.
MRC: How would you describe MRC to someone who has never heard of it?
Gloria: MRC is the place you can come to for support and acceptance no matter where you are on your recovery journey. From peer recovery support to information about housing and job searches; the support and resources are comprehensive. They really care that everyone finds their own pathway to recovery.
Gloria Englund is the founder of Recovering u, author of Living in the Wake of Addiction: Lessons for Courageous Caregiving, and a long-time volunteer for MRC. Thank you for all you do to strengthen the recovery community, Gloria!