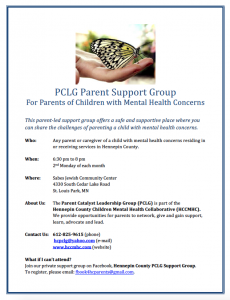 Click image for larger view and flyer.
This parent-­‐‑led support group offers a safe and supportive place where you can share the challenges of parenting a child with mental health concerns.
The Parent Catalyst Leadership Group (PCLG) is a part of the Hennepin County Children Mental Health Collaborative.
We provide opportunities for parents to network, give and gain support, learn, advocate and lead.
6:30pm to 8 pm
2nd Monday of each month