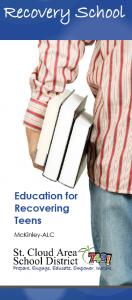 Click image for Brochure.
Mission
Our Mission is to create a safe and caring climate and culture in which we prepare, engage, educate, empower and inspire all learners in partnership with their surrounding community to be successful in today's and tomorrow's society.
WE BELIEVE that recovering students need a supportive school community in which to learn, grow and enjoy the educational experience.
WE BELIEVE that recovering students benefit from ongoing learning opportunities and skill-building in the areas of social skills and relapse prevention as well as personal and educational goals.
WE BELIEVE in providing experiential learning activities that enhance each student's mind, body and spirit to encourage complete wellness in recovery.
WE BELIEVE that recovering students are motivated by personal growth plans and goals tailored to their unique strengths and needs.
WE BELIEVE in committing to a safe environment by involving positive role models and creating systems of support for each student.
Credit towards math, language arts, social studies and science as well as credit for daily recovery groups offered. Credit recovery offered for students who have fallen behind.
Contacts
Al Johnson
McKinley-ALC/Recovery School Principal
320-203-8470
Robert Murry
McKinley-ALC/Recovery School Assistant
Principal
320-203-8470
Shelly Green
MSW, LICSW, LADC
McKinley Recovery School
320-203-8470 ext 5682
Schedule
Monday – Friday
12:30 p.m. to 5:30 p.m.