Minnesota Recovery Connection builds Recovery Capital
in individuals, families and communities.
Minnesota Recovery Connection is a Recovery Community Organization (RCO), led and governed by representatives of local communities of recovery. We honor all pathways to recovery and are not a treatment provider. Rather, we exist to fill gaps in systems of care, connecting people to support and services that help make long-term recovery from substance use disorder possible. We do this by providing peer-to-peer recovery support services, public education, and advocacy.
Connect to recovery support:
Whether you are seeking support for yourself, a family member or a friend, we have free resources to help you take the next step in your recovery journey. Our team has personal experience with substance use disorders and recovery, and we're here to help. 
Substance use disorders and recovery are often misunderstood, stigmatized, or misrepresented. Check out our educational resources and programs and learn about the many faces of recovery and its multiple pathways. There is no wrong door to recovery!
Be a recovery ambassador:
Recovery is contagious. Help us spread recovery and break the stigma of addiction by being a recovery ambassador. From using non-stigmatizing language to advocating for parity in our systems of care, you can help create a recovery-oriented society. 
Our mission is to strengthen the recovery community through peer-to-peer support services, public education, and advocacy. We envision a recovery-oriented society. A society where everyone understands that substance use disorder is a medical condition and people do recover. A society where choosing recovery means rejecting shame, stigma and discrimination. A society where people in recovery live life fully.
Minnesota Recovery Connection envisions a world where recovery from addiction to alcohol and other drugs is understood, promoted, embraced, and enjoyed.

NUWAY Alliance programs value both client choice and client autonomy. NUWAY Alliance offers residential, intensive outpatient (IOP) and outpatient continuing care for adults of all genders. All our programs are co-occurring, MAT (Medication Assisted Treatment) friendly, and LGBTQIA+ safe and friendly. When in a NUWAY Alliance residential program, one can expect a stabilization period while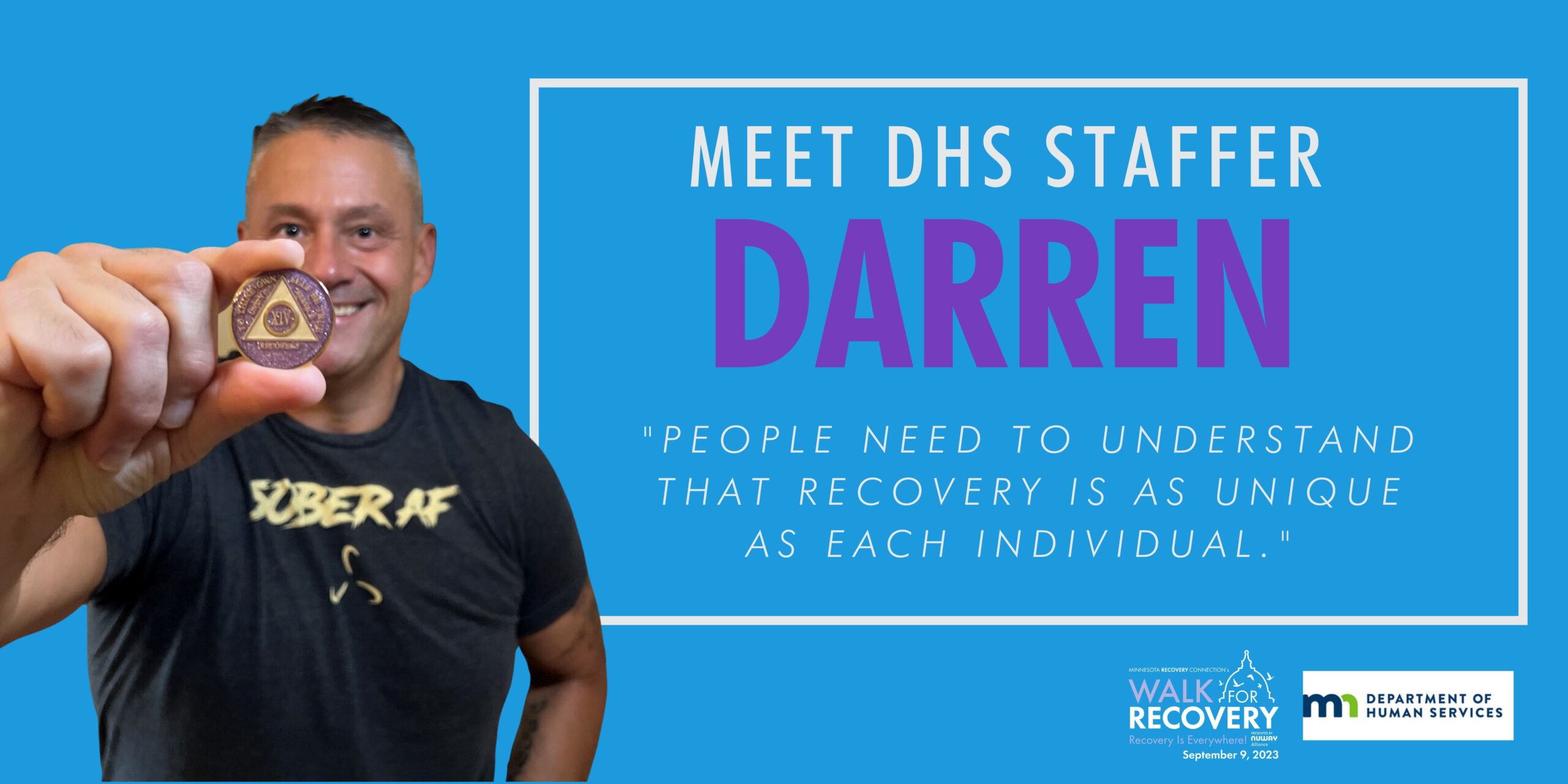 The Minnesota Department of Human Services is a proud sponsor of the Minnesota Recovery Connection's 2023 Walk for Recovery, presented by NUWAY Alliance. We sat down with Darren Reed, Peer Recovery Services Coordinator in the Behavioral Health Division to learn more about his work.  What is your role at DHS? I'm the Peer Recovery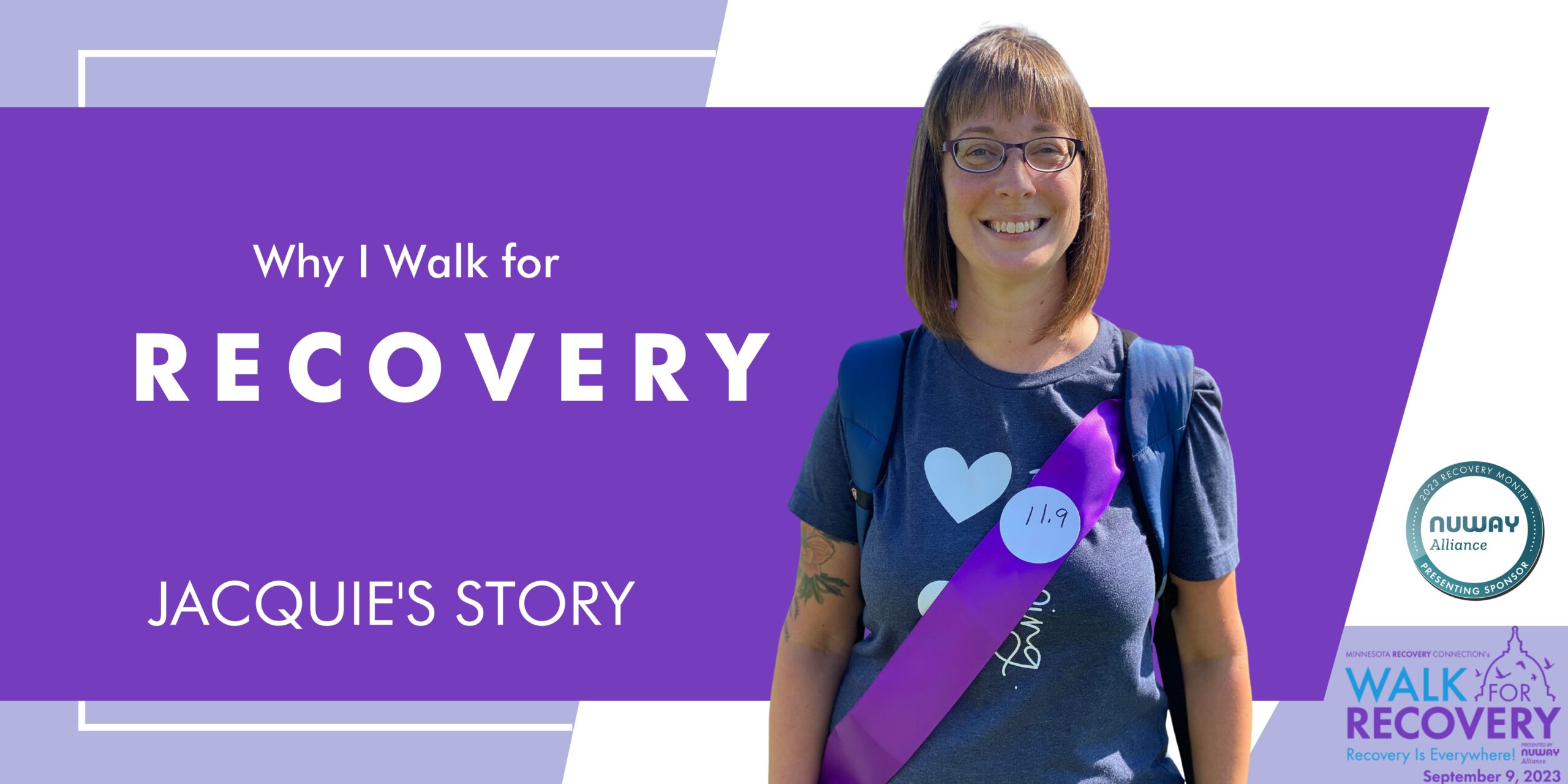 The Walk for Recovery is an essential event for recovery community members and their families, friends, and other allies. It's a gathering where our stories are understood and accepted, no matter what. Jacquie has been walking since 2018 and shares her experience with us.  How did you first hear about Minnesota Recovery Connection's Walk