Peer Recovery Specialist Training
MRC has been preparing individuals to provide one-to-one peer recovery support since 2011. Over 1,000 people have completed the Recovery Coach Academy to date and are using their peer-to-peer support skills to strengthen their communities.
The Recovery Coach Academy is a 46-hour program that introduces participants to the key concepts, fundamental skills and core functions of being effective in their role as a Recovery Coach or Peer Recovery Specialist.
"This was the highest of quality trainings. So professional. An absolutely AMAZING and LIFE-CHANGING experience."
– Recovery Coach Academy graduate
What is a Recovery Coach?
Recovery Coaches aren't sponsors or addiction counselors. Instead, they're people who have lived experience with recovery who provide non-clinical recovery support to their peers.
Recovery Coaches . . .
remove barriers to recovery
connect peers to recovery resources that target their strengths and interests
provide emotional support
focus on the present and future
explore "could" instead of "should"
What is a Peer Recovery Specialist?
A Peer Recovery Specialist is a Recovery Coach who receives compensation and supervision through a state-approved employer for their peer recovery coaching services. In addition to completing the necessary training to be a Recovery Coach, Peer Recovery Specialists apply for a Certified Peer Recovery Specialist (CPRS) Credential, pass an exam issued by the International Certification and Reciprocity Consortium, and pay a fee. MRC's Recovery Coach Academy meets all the educational requirements for the CPRS credential issued by the Minnesota Certification Board (MCB). For more information about applying for a CPRS Credential, visit the Minnesota Certification Board
site.


NUWAY Alliance programs value both client choice and client autonomy. NUWAY Alliance offers residential, intensive outpatient (IOP) and outpatient continuing care for adults of all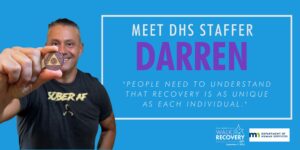 The Minnesota Department of Human Services is a proud sponsor of the Minnesota Recovery Connection's 2023 Walk for Recovery, presented by NUWAY Alliance. We
The Walk for Recovery is an essential event for recovery community members and their families, friends, and other allies. It's a gathering where our