Minnesota Recovery Connection is building a recovery-oriented community of care. A recovery-oriented community of care prioritizes long-term recovery support over short-term treatment. Our community of care brings together people in recovery, leaders for recovery, and the systems they use. This community shares a transformative vision, a recovery-oriented society. By working together and learning from each other, we can reach it.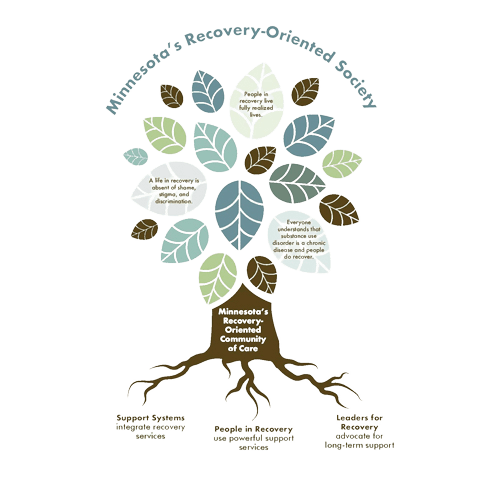 First, leaders of all kinds must advocate for long-term support of recovery services. Whether they are in recovery, working to support recovery, or both, the people in our community are leaders. By speaking up, they help the systems that serve recovery as well as people in recovery see what is possible and make changes.
Next, the systems that people in recovery use must integrate recovery services with treatment services. Peer-based recovery support is a powerful and practical model that we are working to integrate. Changing systems takes time. Our community seeks to diversify interest and funding to support the change.
Finally, people in recovery want and deserve powerful recovery support services. We are expanding what Minnesota has to offer, creating awareness and increasing access. If people seeking recovery support, and those that care about them, know about the diverse services available and have immediate access to them, they will use them.
Join our recovery-oriented community of care and help us move towards a recovery-oriented society. A society where everyone understands that substance use disorder is a medical condition and people do recover. A society where choosing recoverymeans rejecting shame, stigma, and discrimination. A society where people in recovery live life fully.