"I do this because I am her voice now. I do this because of other mothers."
The Walk for Recovery is an essential event for community members and families to gather where their stories are understood and accepted, no matter what. Team Kick it for Kellie 7.0 has been participating in the Walk for Recovery since 2016 and is ready to walk again this year! To this team, the walk is a day to hug as many people as possible and support other families who have lost children to substance use disorders. Beckie Lillehei, team Kick it for Kellie 7.0's captain, shared her mission and story with us as she is getting ready to prepare her walk team for 2022.
MRC: When did you first get involved with Minnesota Recovery Connection?
Beckie: After I lost my daughter Kellie to an overdose in 2016 I was searching for a grief counselor. I was unable to find a group specializing in losing a loved one to substance use disorder, and someone said to try Minnesota Recovery Connection. At that time I didn't know much about the organization. Only that my daughter Kellie had participated in the walk, and being in recovery for 36 years myself, I had heard of them briefly in the community. 
I volunteered for the nursing peer support network (NPSN) and we used MRC's office space. Then in 2018 I participated in the Recovery Coach Academy through MRC and, wow, was I surprised to learn about all of the pathways to recovery! Today, I do not care how you find recovery. I just hope that you are able to get the gift.
With my grief partner, I am an active member of the family support group , which meets on the 2nd and 4th Tuesday of every month using the CRAFT model. This has played a crucial role in my healing and being able to give back to others in the community. 
My recovery looked very different than my daughter's. I was exposed to a twelve-step program early in recovery and that was all I knew and never looked back. When my daughter was in the height of her addiction, I didn't know what to do. She was 33 years old and we were struggling navigating barriers like insurance, and I was so lost. We struggled to find her a stable home after she was released from treatment abruptly with no support, direction, or resources. This was a trying time for me because I only knew one pathway to recovery and it wasn't working for my daughter. I cannot express enough the need for peer-to-peer support to help those navigating the paths to recovery. The evolution of peer support, harm reduction, and all pathways has really changed my outlook on life, and it is incredible how there are so many more options available for recovery.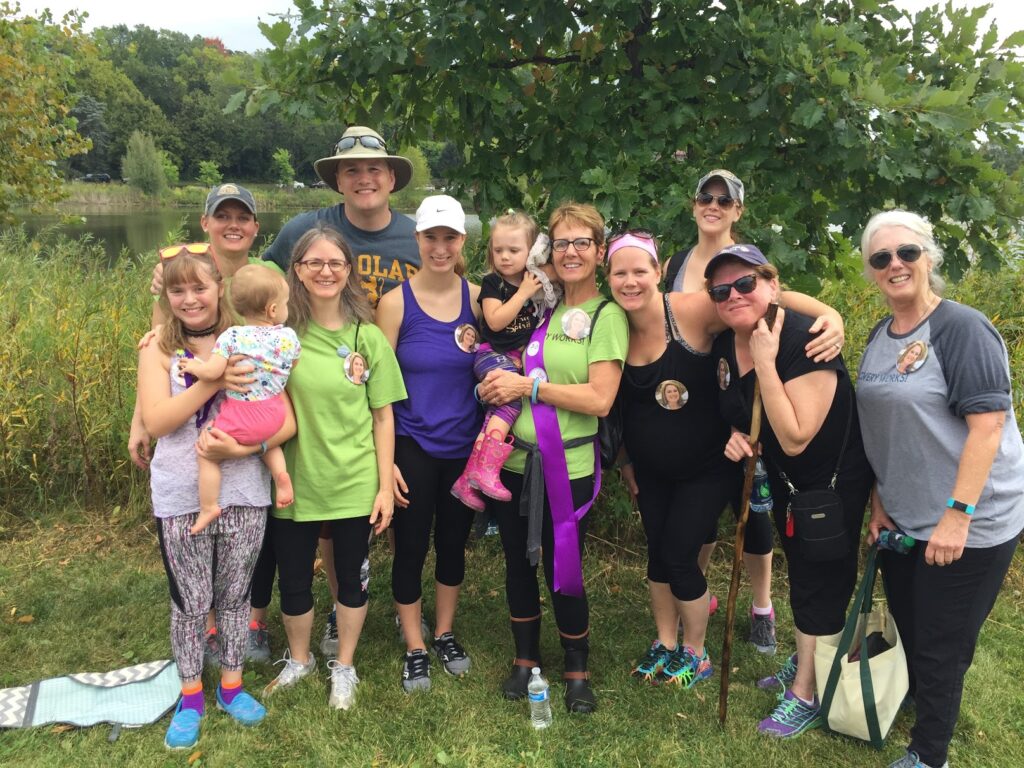 MRC: What motivates you to come back every year?
Beckie: I do this because I am her voice now. I do this because of other mothers. I get to see the women and moms who have lost children who I've met over the years, and we meet up at the walk every year. I didn't know what I didn't know. I spent the first few years after her passing thinking that I was a bad mom because I couldn't save her. I didn't have the resources or the knowledge of where to go or how to support her. If I get an opportunity to educate or change one person's opinion on shame and stigma, I would walk every day for it. I walk to keep her spirit alive. To let everyone know that she still matters, and to let everyone know they still matter. The walk is the most energy-filled, nonjudgmental place that I spend every year.  It is absolutely amazing. If I can teach someone one thing, if someone asks what the Walk is all about and I can educate about where the money goes, or what it's for, then I feel like I have helped. 
MRC: How did you first hear about Minnesota Recovery Connection's Walk for Recovery?
Beckie: My daughter, Kellie, told me about it early in her recovery, which is also when I learned about Recovery month. Previous to this I had no idea that September was Recovery Month.    
MRC: How many years have you participated in the Walk?
Beckie: 2022 will be year seven. 2016 was our first year, and we recognize the years walked with the number in our team name that goes on our t-shirts every year. There is always more to be revealed, and we are so darn lucky to participate in the walk every year. 
MRC: What is your favorite part about putting a team together?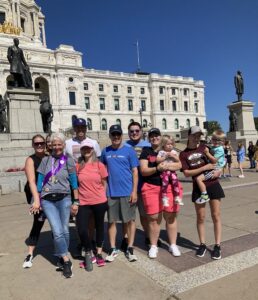 Beckie: It gives my other daughter and me an opportunity to come up with ideas about how we are going to tell our story, and we usually wear buttons and pictures of Kellie. It's a chance to be a voice and see how much people love her in the present tense, because they love her now. And you know what? We all matter, we are all such good people. We get to show people that we want our voices heard for my daughter. Kellie's death is not in vain. I have to keep her legacy going. It seems cliché, but it is the truth her passing gave me a newfound life. I retired from my nursing career and felt like I had to do something – something bigger, and something more. 
MRC: Do you have any advice or tips for someone who is starting their first fundraising team?
Beckie: Even if you only get one or two people that is a team!  A lot of our team are out-of-towners, and they donate money and join the team in that way. DO NOT give up. It does get competitive for the top fundraising spots and that energizes us. Put together a heartfelt 'why' about why you're doing it and what it means to you. A story about recovery in general and what MRC is able to provide for people who are still struggling. Even if you only raise one dollar, who cares? Get out there and get out at the walk site and take in the love,  the acceptance, and the grace that we give each other that we don't always get elsewhere!
MRC: What are you looking forward to at this year's walk?
Beckie: I always like getting the fundraising page set up and telling Kellie's story, taking the time to find a photo for the button we wear.  Just the excitement of being out there and still being so proud of her and honoring her. I am proud of everybody who is out there. It feels so cool to not be so ignorant anymore. I still don't know the answers, but today I have somewhere to call, and that is Minnesota Recovery Connection. 
Beckie is a proud member of the A Different Kind of Grief group through Brighter Days and wants to let other mothers who are struggling with the loss of a child to substance use disorder that there is help out there and you do not have to be alone. 
If you are interested in starting a walk team please visit the 2022 Walk for Recovery website and register your team today!