Minnesota Recovery Connection is grateful for the support of 2022 Recovery Month Platinum Sponsor, Allina Health. We're happy to share this guest post from Allina about their new Virtual Addiction Clinic. Thank you, Allina Health!
Addiction Services: Virtually Everywhere?
Treatment, Addiction Services, SUD Program, ASAM levels of care – what comes to mind when you think of think of these words? For many people seeking services to address substance use concerns, these words can be associated with residential or intensive outpatient programs, where clients attend individual and group counseling sessions as well as a variety of other educational and recreational services. Traditional treatment programs for substance use disorders have served clients in Minnesota well over the years; yet, in the wake of a quickly changing social environment where individuals are increasingly having less time to do more, these programs can be difficult to fully commit.
Allina Health has committed to respond to the ever-changing needs of the communities it serves. In addition to having an inpatient hospital-based opioid treatment program and a variety of outpatient programs, Allina Health recently launched a Virtual Addiction Clinic to help support individuals seeking services for substance use concerns across the state of Minnesota. More than simply virtual services, this clinic offers addiction medicine or MAT, addiction therapy, and peer recovery support services in partnership with Minnesota Recovery Connection, all in a virtual setting. Clients meet with their treatment team for services anywhere from once to three times per week and can select the specific services they are interested in taking part in.
Here is what one of our therapists has to say about this new program:
"I have worked with the Virtual Addiction Therapy program for about 8 months now and I enjoy being a provider within this service. We have created a therapeutic program that offers flexible care for patients in recovery. Because the Virtual Addiction Therapy program is a virtual-based service and because utilizes the harm reduction approach, we are able to meet patients where they are in their recovery journey. Allina's Virtual Addiction program creates a safe and unique environment for patients to discuss their recovery at their own pace while also helping to emphasize and support the structure in their lives. By doing so, the Virtual Addiction Clinic is meeting the needs of many who do not believe that getting help to begin or maintain their recovery journey is possible."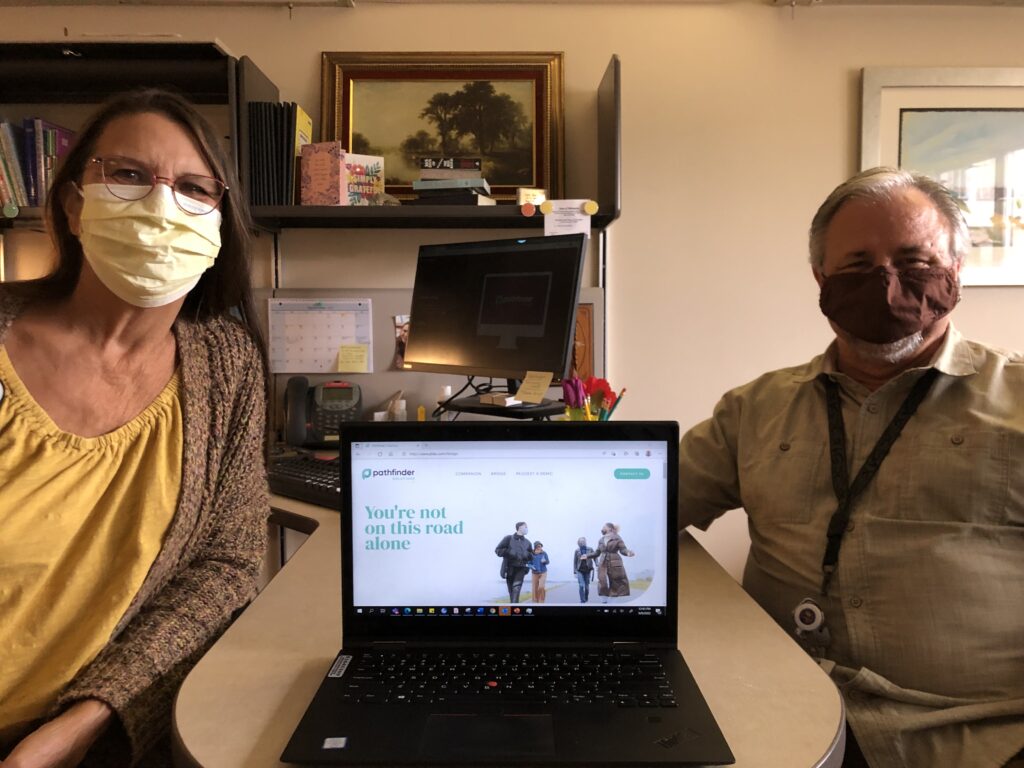 In addition to this clinic, Allina Health has started using a phone-based application called, "Pathfinder". Pathfinder for clients allows connecting with peers in recovery through the app, create and track goals, daily check-ins, access to resources, and quick connection to their counselor or therapist. On the other side, counselors and therapists can see progress, send out communication, and respond to their client's messages. Offered in outpatient and in the Virtual Addiction Clinic, Pathfinder has helped patients feel more connected in virtual setting with their peers and treatment team while providing ongoing access to recovery resources after they graduate from programming.
Here is what one of our therapists has to say about working with Pathfinder:
"The Pathfinder Application has been very helpful in my work with patients in the Virtual Addiction Care service.  It provides opportunity for patients to connect with their therapist, peer recovery specialist, and peers which enhances a sense of community within a virtual service delivery model.  It also provides quick and easy access to a plethora of valuable resources such as community-based recovery meetings, personal recovery stories, daily check-ins, and rewards for completing recovery activities. The Pathfinder App fills a gap in our virtual care environment by offering these intersession activities which increases engagement and overall success of the service. "
 Addiction Services at Allina Health offers a wide array of options to address substance use and mental health concerns. With the addiction of our Virtual Addiction Clinic and our work with Pathfinder, Allina's commitment to helping individuals progress in recovery has entered new, and exciting territory. We are proud of our mental health and addiction programs, and very proud to offer these new services to our community.
If you or someone you love may benefit from our Virtual Addiction Clinic or any of our mental health and addiction programs, please call our Mental Health & Addiction Connection Line at 866-603-0016, 24 hours a day, seven days a week, and one of our team members will help you connect with the program that best meets your needs.