Recovery coach academy application process overview
The application process is a way for us to get to know you. There are no right or wrong answers. Instead, we want to know more about where you are on your recovery journey and how can we support your aspirations of building recovery in your community.
We request that you submit your application online. If you need help completing your application, please contact us at 612-584-4158 and request to speak with a Recovery Navigator. We are happy to help you over the phone, or you may make an appointment to meet with someone in person and use one of our computers.
What Are the Qualifications to be a Recovery Coach Academy Participant?
Be willing to self-identify as a person in recovery or as a member of the recovery community (e.g. ally, professional, family member) for the benefit of others.
Demonstrated participation in advocacy and/or personal knowledge of recovery.
If attending as an MRC volunteer, should be in recovery from alcohol or other drug addiction with 1 to 2 years of problem-free recovery.
Strong reading comprehension and written communication skills as indicated by responses during the application process.
Agree to respect and observe the MRC Recovery Coach Code of Ethics.
Note: A high school diploma or equivalent is required to meet the requirements to take the Minnesota Certification Board Exam to hold the Certified Peer Recovery Specialist credential, but it is not a requirement to attend the Minnesota Recovery Connection Recovery Coach Academy.
How Are Recovery Coach Academy Participants Selected?
People in recovery, recovery allies, or employees of recovery organizations who are interested in becoming a Recovery Coach must apply to Minnesota Recovery Connection (MRC) for initial screening and be approved by the MRC Recovery Coach Academy Selection Committee. The selection committee consists of peers in long-term recovery who have previously completed the Recovery Coach Academy. Qualified candidates are selected for the training based on their completed application, interview, and ability to meet the training guidelines.
Before You Begin Your Application
You may save your online application and return to it any time before submitting it. However, the application has required fields that will prevent you from skipping ahead to see the next page before you complete the page you are on. We recommend that you review the page-by-page overview of the application below before starting the online application.
Below are step-by-step instructions for completing your application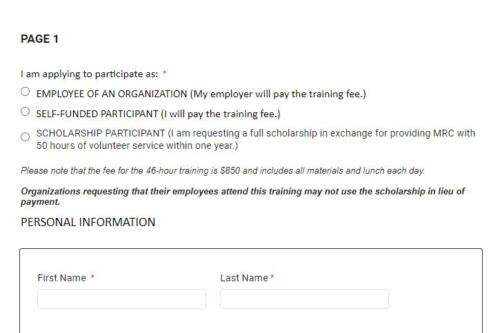 Page One – Personal Information
On this page you will be asked for the following:
Required: Indicate if you are applying as a scholarship recipient, or if you or your employer will be paying the $850 fee
Required: Name, email, and mailing address
Optional: Phone number
Optional: Number of years in recovery
Optional: How did you hear about the Recovery Coach Academy?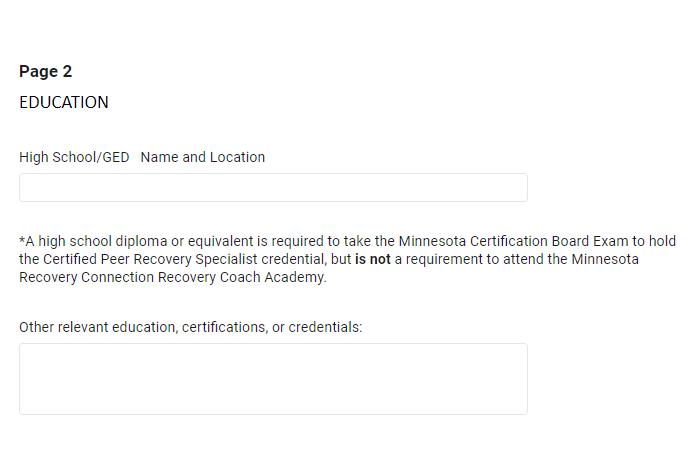 Page Two – Education
On this page you will be asked for any relevant education (high school diploma or other certificates or credentials). This information is not required.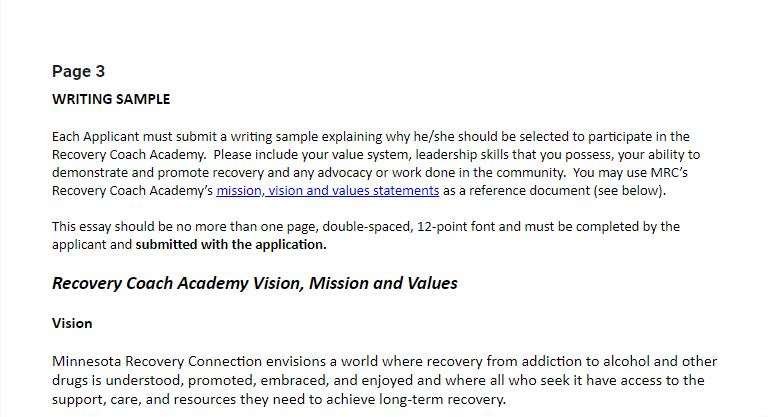 Page Three – Brief Writing Sample
To help us get to know you better, we require a brief writing sample. What inspired you to want to become a Recovery Coach? We want to know what your vision is for the recovery community. In your essay, you may want to include your value system, leadership skills that you possess, your ability to demonstrate and promote recovery, or any advocacy or work done in the community. You may also use MRC's Recovery Coach Academy's mission, vision and values statements as a reference document.
This essay should be no more than one page, double-spaced, 12-point font and must be completed by the applicant.
You will need to upload your essay as a Word Doc, PDF, or JPEG. If you need assistance, please contact our Recovery Navigators at 612-584-4158.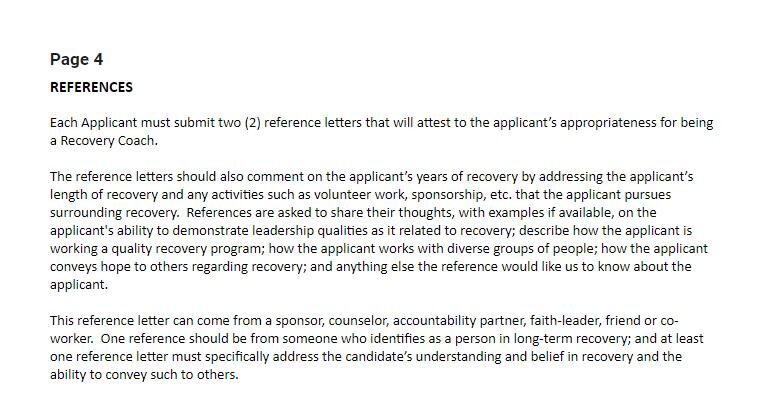 Page Four – References
On this page, you will be asked to provide the following:
Required: Name of references, their relationship to you, and the number of years you have known them
Optional: Email and phone number for your references
Required: 2 short letters of reference, which will each need to be uploaded as a Word Doc, PDF, or JPEG. If you need assistance, please contact our Recovery Navigators at 612-584-4158.
Your two (2) letters of reference can be personal or professional references. We want them to share how they see you showing up in the community. What steps have you taken to show hope, and to show that a life in recovery is possible for all who seek it?
Reference letters might come from a sponsor, counselor, accountability partner, faith-leader, friend or co-worker. At least one reference should be from someone who identifies as a person in long-term recovery, and one should address your understanding of and beliefs in recovery and your ability to convey that to others.
To help your references write their letters, you may download this PDF to share with them: Recovery Coach Academy Letters of Reference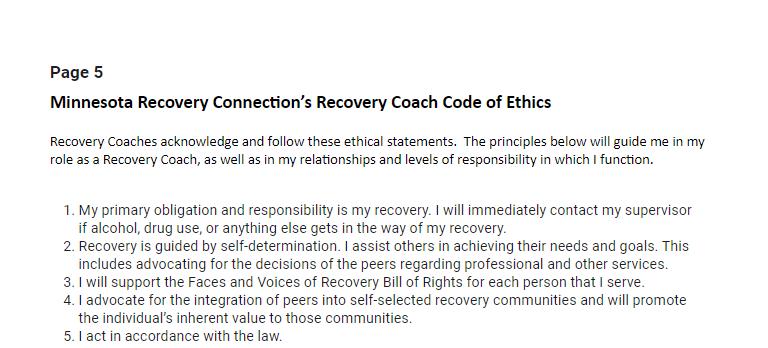 Page Five – Recovery Coach Code of Ethics
On this page, you will be asked to agree to Minnesota Recovery Connection Code of Ethics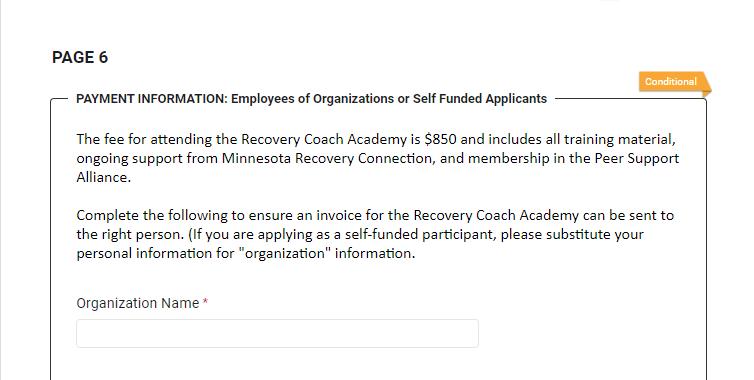 Page Six – Payment Invoice Information
If you or your employer will be paying the $850 fee to participate in the Recovery Coach Academy, you must provide invoicing contact information on this page.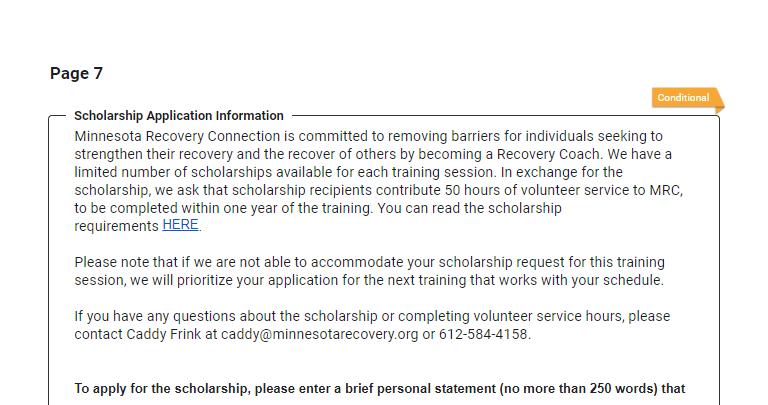 Page Seven – Scholarship Information
If you are applying to participate in the Recovery Coach Academy on scholarship, please review this information before you submit this information and then this information can be linked to fee and scholarship page"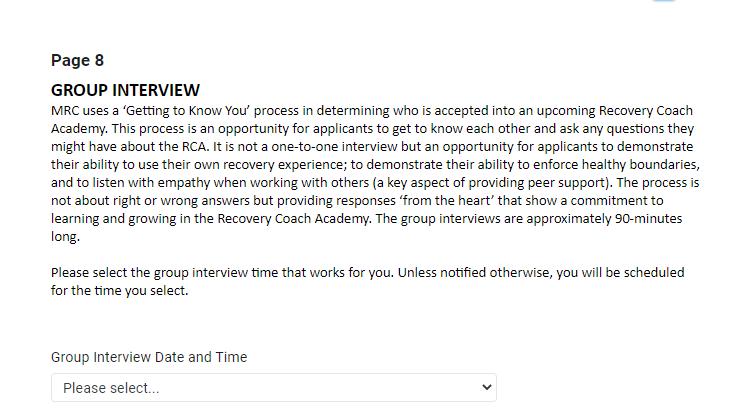 Page Eight – Group Interview
In this section you will select a time for your group interview. You will have the option to select from three virtual interview options. All interviews will take place over Zoom. Unless notified otherwise, you will be scheduled for the interview time you select.
MRC uses a 'Getting to Know You' process in determining who is accepted into an upcoming Recovery Coach Academy. This process is an opportunity for applicants to get to know each other and ask any questions they might have about the RCA. It is not a one-to-one interview, but rather an opportunity for applicants to demonstrate their ability to use their own recovery experience; to demonstrate their ability to enforce healthy boundaries; and to listen with empathy when working with others (a key aspect of providing peer support).
The process is not about right or wrong answers but providing responses 'from the heart' that show a commitment to learning and growing in the Recovery Coach Academy. The group interviews are approximately 90-minutes long.